Every retail industry has its challenges. With all the regulations, laws, products and factors that require consideration, there is plenty of room to make costly mistakes. When working with more recently legalized products such as hemp-derived CBD, it's important that you stay up to date on the latest CBD labeling laws and state regulations.
As the leading wholesaler of hemp-derived CBD products in the United States, we at US Hemp Wholesale care about your success. When retailers break the rules in the sale of CBD products, it can reflect poorly on the entire industry. So to protect the integrity of everyone who sells CBD and other hemp-derived products, we've assembled this helpful guide detailing the basics of CBD product labeling laws and other state specific regulations.
What is Needed on a CBD Product Label
When building a label for your CBD product, there are eight key components that you need to include.
1. Brand Name: Make sure to prominently feature the brand name on your CBD product label. This is typically what the consumer will see first, and is how they will find your product in the future.
2. Ingredients: This is a must have for exterior packaging. The ingredient list must include everything contained within the product. For instance, if the packaging is for a CBD oil, it should list CBD along with all the carrier oils being used in the product.
3. Product Type (aka Product Identity): This is where you indicate what your product does. For instance, if your product is meant to encourage pain relief, it may say "Natural Pain Relief Aid" on the label. Be sure that you do not use any medical terminology and stick to words like "aid" in order to clarify the intended effect of the product without stating it as a guarantee.
4. Warning: You should include standard warnings about the product and its intended use. If you have a topical product, note that it is not intended for ingestion. It is also important to include warnings that the product should not be used by women who are pregnant or nursing. Your warning should also include that it is not intended for children. Finally, all warnings for CBD products should note that while unlikely, this product could cause someone to fail a drug test.
5. Material Facts Disclosure: Material facts include anything a person would reasonably want to know about the product. Some common material facts include expiration date, manufacturing date, batch code, and intended product use.
6. Quantity of Contents: Always list the total net weight of your product. Throughout the United States, this will most often be listed in fluid ounces for liquids, and ounces for solid products.
7. Business Name and Location: Should there be any positive feedback a customer wishes to leave about your product, it's important that you list the basic information about your business. We recommend going beyond the standard name and location by adding the name of your website or even adding in some social media pages.
8. Directions: While CBD should not be treated entirely like a medicine, you should include the dosage amount, roughly how many doses are in a container, and how often the product should be used.
Once fully assembled, your label should contain a similar amount of product information as the example below.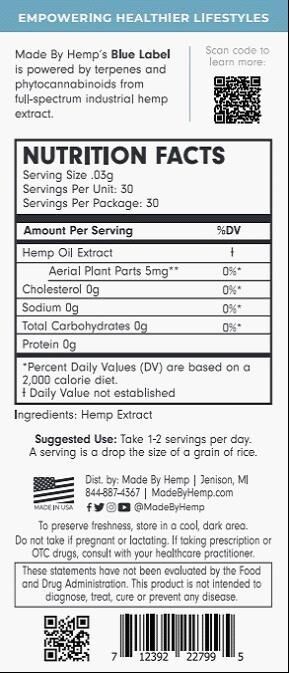 What Not to Include on Your CBD Product Label
While it's most important to focus on including the necessary items on your label, you must be absolutely sure that you do not make any false claims while designing your label.
In particular, you must adhere to the existing rules regarding CBD as laid out by the FDA. These rules state that a seller cannot claim that CBD "treats, cures or diagnoses any disease or ailment." This may sound strict, but it ultimately safeguards consumers and protects the image of the CBD industry in the eyes of consumers.
Most importantly, a label that makes outsize claims as to the effectiveness or power of CBD puts their customers at risk. If someone with a disease reads the label of a CBD product and comes away believing that CBD could cure their disease, that could prevent them from seeking necessary treatment.
At US Hemp Wholesale, we believe that CBD has the potential to benefit countless people. But for the safety of you and your customers, we will never make any claims that go against the regulations laid out by the FDA.
State-Specific Labeling Regulations
As CBD grows in popularity and becomes easier to obtain, certain states may add specific regulations to the labeling of products. The following states have implemented specific laws that apply only to products sold within their state.
Alaska: In Alaska, retailers are responsible for ensuring that products are properly labeled. Anyone selling a product must also submit a label to the Alaska Department of Natural Resources (DNR) in order to receive approval.
California: Because of Proposition 65, California requires that all products that could cause cancer or birth defects be labeled as such. Most products sold in California carry this label, so be sure to investigate your carrier oils or additives to determine whether or not this label is necessary.
Colorado: Colorado requires a list of all ingredients, a net weight statement, company name and address, and an identity statement to be on all CBD products.
Indiana: Indiana requires that all products be lab-tested and certified. As part of this requirement, all labels must contain a QR code linking to comprehensive information about the product testing results.
Louisiana: All hemp and CBD products sold in Louisiana must be registered in accordance with the Food Drug and Cosmetic Law of Louisiana. Hemp/CBD labels must also have a scannable element linking to the certificate of analysis, contain no medical claim, and have the following statement: "This product has not been evaluated by the Food and Drug Administration and is not intended to diagnose, treat, cure, or prevent any disease."
Maine: Maine requires labels to indicate the amount of CBD by weight or volume, include the source of the hemp from which the CBD in the product is derived, include the batch number and include a disclosure statement noting that the food product has not been evaluated or tested for safety. The label must also clearly indicate that CBD is in the product through a clearly visible symbol or marking.
New Jersey: Labels for CBD products sold in New Jersey must show the amount of CBD, percentage of THC, and the percentage of CBD extract contained in the product.
New Mexico: Labels for CBD products in New Mexico must meet all federal requirements. Additionally, the front panel must clearly display the CBD content in milligrams and the THC content in milligrams. The label must also be clearly visible and contain no health, medical or benefit claims.
New York: New York formerly required CBD labels to indicate that the product was a dietary supplement. This has been undone as the FDA does not allow CBD to be listed as a dietary supplement.
Oklahoma: Oklahoma requires CBD product labels to indicate the country of origin for the CBD and whether it is synthetic or natural.
Utah: Utah has strict labeling laws that demand the batch ID number, product name, batch date, expiration date, batch size, total quantity produced, and a downloadable link to the certificate of analysis all be included on the product label.
Vermont: Vermont requires product labels to include the mailing address and name of the business. The state also requires the label to have a statement that it contains ingredients derived from hemp, an accurate measurement of the contents (quantity, weight, etc.), a lot process number, and a statement noting that the product contains THC, if applicable.
Wisconsin: Wisconsin requires CBD product labels to include a declaration of responsibility. This requires the label to include all the information about the company that manufactured the product, specifically its address, connection to commodity, and name of the responsible party. Here is a full list of Wisconsin's labeling requirements for CBD products.
We suggest adhering to the most stringent labeling laws of any state so that you do not have to change your label when selling products in other states. This will help save you time, money, and duplicate efforts should you ever expand into nationwide online retail, or should your store start selling products in other states.
Stay FDA Compliant with Products and Labels from US Hemp Wholesale
All of these rules and regulations may sound like a lot to keep track of, but if you choose to work with US Hemp Wholesale as a distribution partner, we'll take care of it all for you. Each of our products is designed with labels that adhere to the latest state and federal labeling regulations. We'll even help you label your own private label or white label products to sell to customers.
If you're looking to jump into the business of CBD retail, or are looking for a wholesale partner that is capable of handling any rules or regulations thrown their way, your search is over. Contact us today to find out how a partnership with US Hemp Wholesale can help supercharge your business!