How to Get Started Selling CBD Oil Online or in a Retail Store
There is a lot of planning that goes into setting up an operation to start selling CBD oil. Because of how many different ways there are to start any business, there's actually more than one way to do it. Thanks to our years of experience in the industry, we've identified a few key steps that will help you get started selling CBD oil.
There are three main steps to getting started selling CBD oil,
1. Identify a CBD distributor who will supply you with products to sell
2. Research what is legal within your state or local area
3. Determine who comprises your customer base and identify what products they need
After accomplishing these three steps, you're well on your way to start selling CBD.
Of course, you'll need more detail than that in order to feel confident. Thankfully, we've written a whole page that goes deep into the details of how to get started. Read on in this guide to learn more about our tips for starting your own CBD store.
The CBD Industry at a Glance
Due to the recent research and personal testimonials surrounding CBD, the market for CBD oil has expanded substantially.
According to The Hemp Business Journal, the CBD market is estimated to grow to $2.1 billion in consumer sales by 2022.
$1.3 billion of those sales will come from hemp-based CBD sources.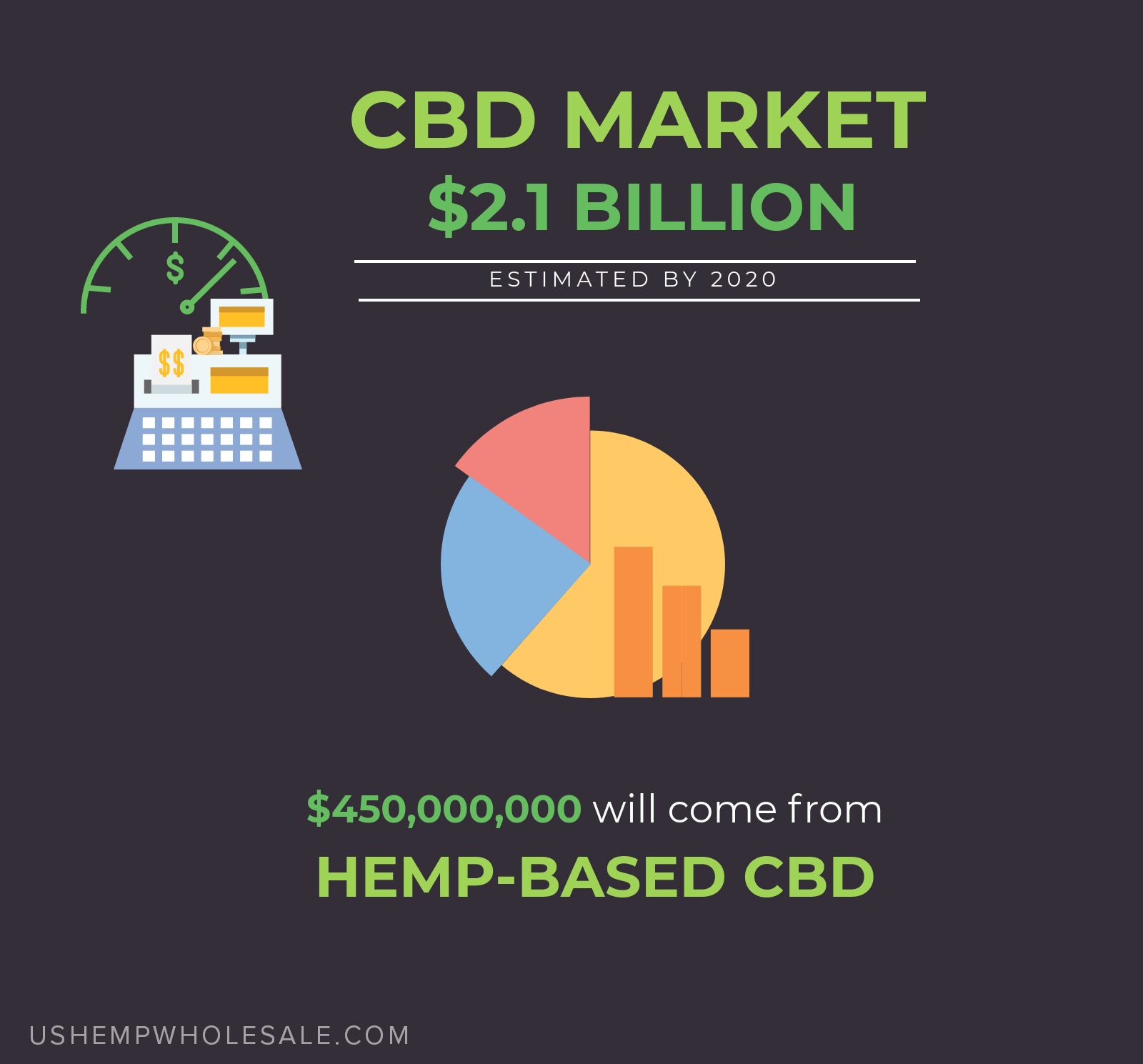 Whether you've experienced the benefits of CBD oil first hand or you see an opportunity in the industry, you may be considering a jump into the CBD market. From our five years of experience in the CBD industry, we have gathered valuable information that will help guide you through the opening of a CBD store.
The two major opportunities for CBD retail are online and in-store brick and mortar. This comprehensive guide will discuss both. Consider the benefits of each:
Benefits of Selling CBD Oil Online
There are many benefits of running an online business which are not exclusive to selling CBD oil. In comparison to a retail storefront, an online store saves money in set-up and operational costs. After an initial start-up fee, you have access to a broad audience. Customers who may not have found your retail business have access to your store and you can target your preferred audience (more on that later).
By becoming an online CBD oil distributor, you can cater to those who prefer to purchase CBD oil from the comfort of their own home. If cannabidiol (CBD) is not accepted near your place of residence or if you do not think it will sell well in your area, you still have access to other customers nationwide who are seeking CBD products.
Benefits of Selling CBD in a Retail Space
In a retail space, you have direct contact with your customers. This is beneficial when selling a natural supplement such as hemp-derived CBD, as the product often prompts many questions. In a retail space, the customer can see the product in person and have access to immediate service. Your customers are likely to require your attention and will appreciate the interaction a retail space can provide.
In a retail space, you can build customer loyalty and rapport with knowledgeable staff members and quality products. A retail space is a great opportunity to introduce the community to CBD or cater to a location where CBD is not yet available. With a retail store, you can reach the audience that prefers shopping in person. CBD products also make a great addition to a store focused on natural wellness.
Before You Begin
If you are contemplating becoming a CBD oil distributor, there are a few items to consider. To begin, we'd like to provide answers to the questions we most frequently receive regarding CBD.
FREQUENTLY ASKED QUESTIONS ABOUT CBD OIL
Is CBD oil legal?
The CBD oil we are discussing is derived from industrial hemp and contains less than 0.3% THC. If sourced in this manner, CBD oil is legal to sell in the United States.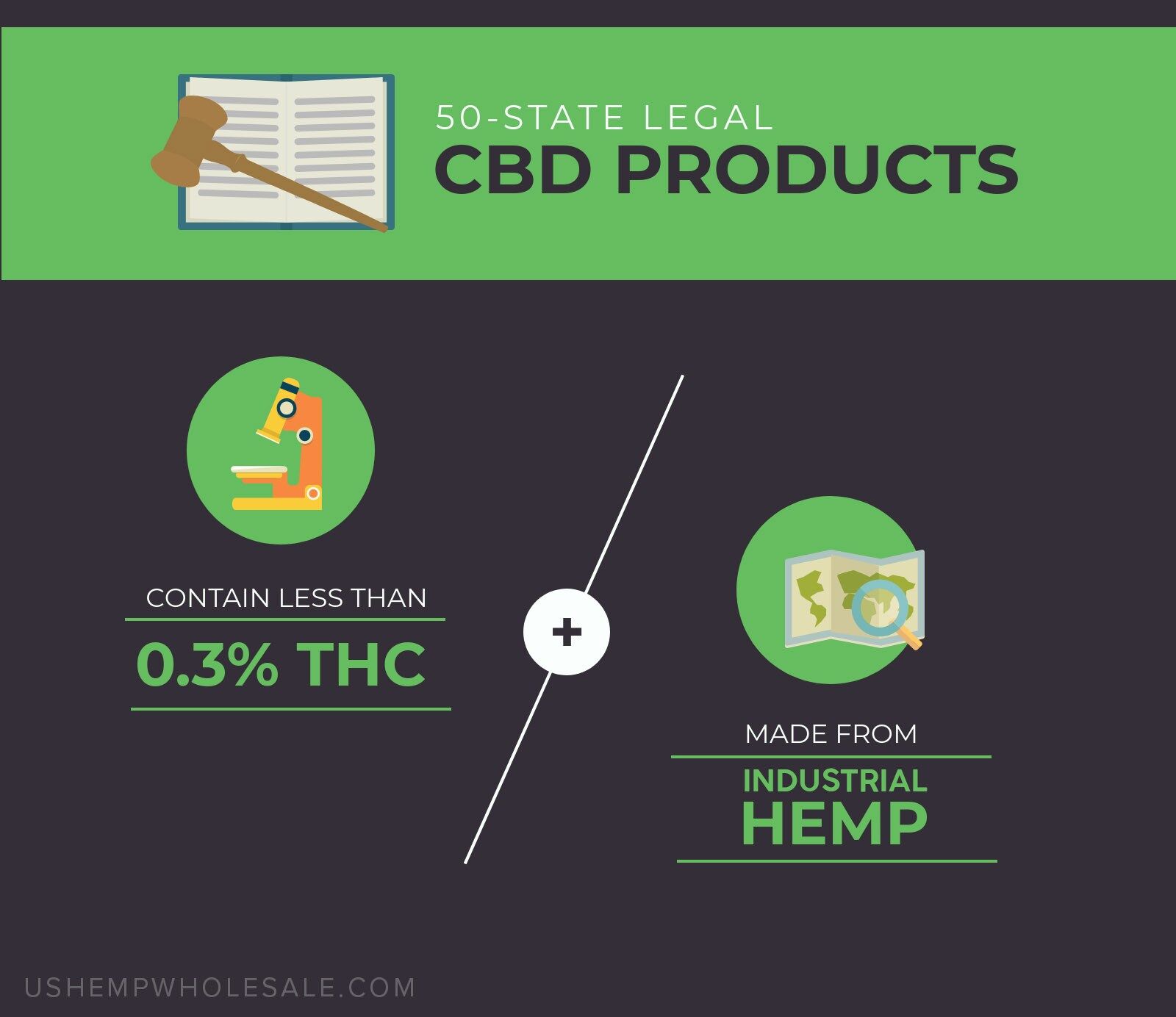 Will CBD oil show up on a drug test?
Most drug tests check for the presence of tetrahydrocannabinol (THC). Properly sourced CBD oil contains less than 0.3% THC, which is a trace amount. For that reason, it is unlikely for CBD oil to show up on a drug test. However, the results of a drug test cannot be promised. To cater to all customers, you can consider carrying THC-free products, such as our Focus or Relax.
Does CBD get you high?
As mentioned previously, properly sourced CBD oil contains 0.3% THC, which is a trace amount. Therefore, hemp-derived CBD oil will not get you high.
Does CBD oil have side effects?
Research on CBD is ongoing, but the reported side effects of CBD oil are minor. When taken in high quantities, some have reported drowsiness while others have reported stomach discomfort due mostly to the carrier oils.
Finding a Reputable Supplier
As a distributor, you'll need to find a CBD wholesaler to purchase products from. Finding a reputable seller will be of benefit to you and your customers. To ensure that you are providing a quality product to your customers, you should look for the following from a wholesaler:
Sourcing: the location of where the CBD oil is sourced from can be telling of its quality. Many reputable wholesalers source their CBD oil from the US or Europe, where farmers have had years of experience growing hemp. If a wholesaler grows their own hemp, be sure to research their farming practices to confirm that they are performing at or above standard practices.
Extraction method: there are several ways to extract CBD oil from hemp. Some methods use harsh chemicals that can be difficult to fully remove from the final product. The highest standard of extraction is CO2 extraction, which can be complicated but is a safe and clean method.
Certificate of Analysis (COA): a COA is a lab test report that confirms the levels of CBD, THC, and other compounds in a CBD product. This report will ensure that your customers are receiving a pure product that contains exactly what is on the label. With any supplier, you can send for a third-party test to confirm the purity and potency of the product.
Claims: although there is research that supports the benefits of cannabidiol, suppliers cannot make medical claims about CBD oil. If a CBD wholesale company makes any health claims about their product, be aware these claims are not supported by the FDA. The FDA's disclaimer should be visible on the website. (This is required of retail stores as well.)
Price: be wary of products that are available at an incredibly low price. When it comes to CBD oil, you get what you pay for.
Services provided: while not an indicator of a reputable seller, it is beneficial to know what additional services a wholesale business provides. Services such as drop shipping and private labeling can be to your advantage.
Now that you are equipped with the right information to get started, we will discuss the details of selling CBD online and in-store.
How to Sell CBD Online
Selling CBD products online is a common and viable option for getting started in the CBD industry. Although legal, selling CBD oil is considered high-risk by some industries and there are a few items to be aware of before getting started. We will discuss the obstacles you may face while offering tips to help you set up and market your online store.
Getting Started with a CBD Oil Online Store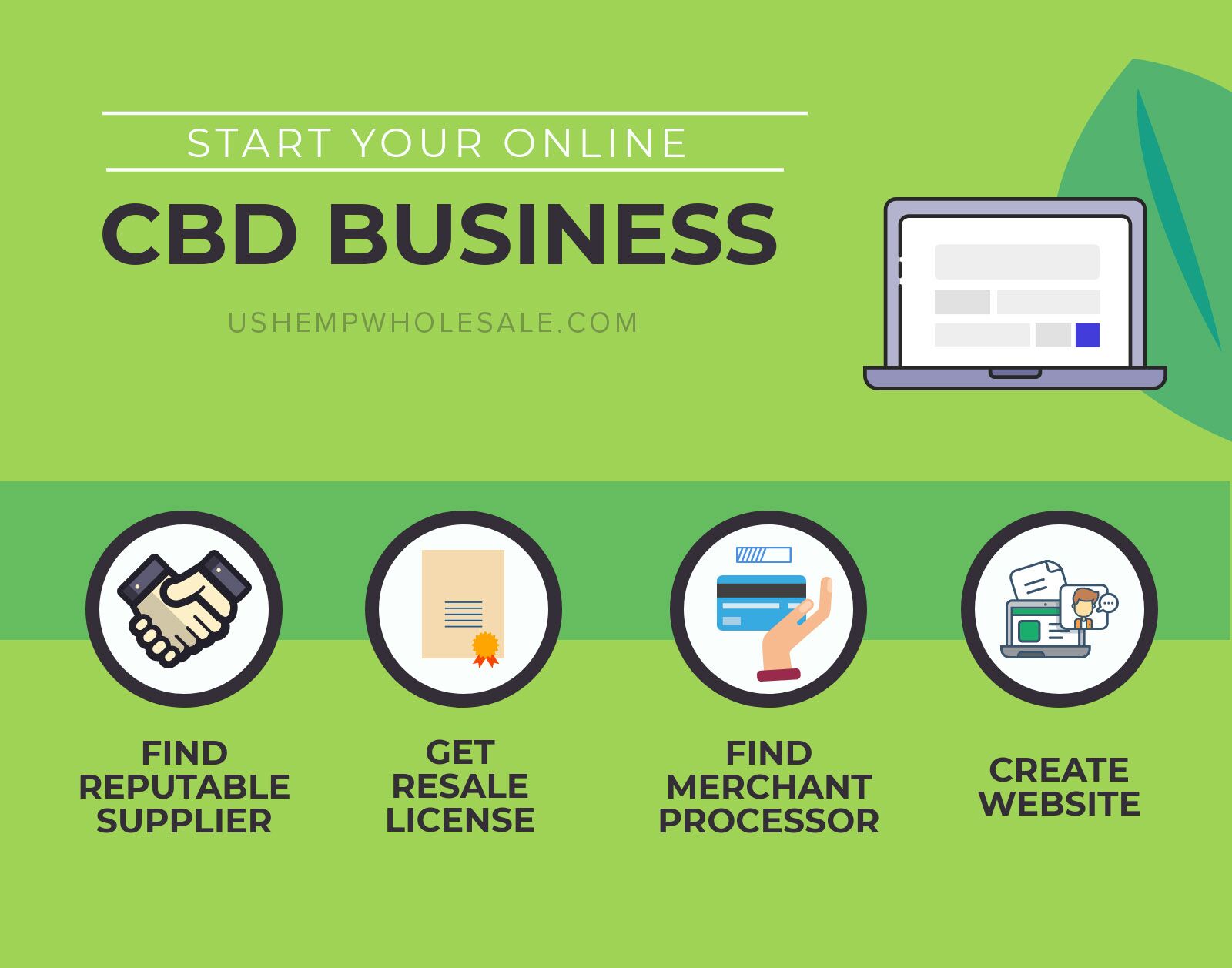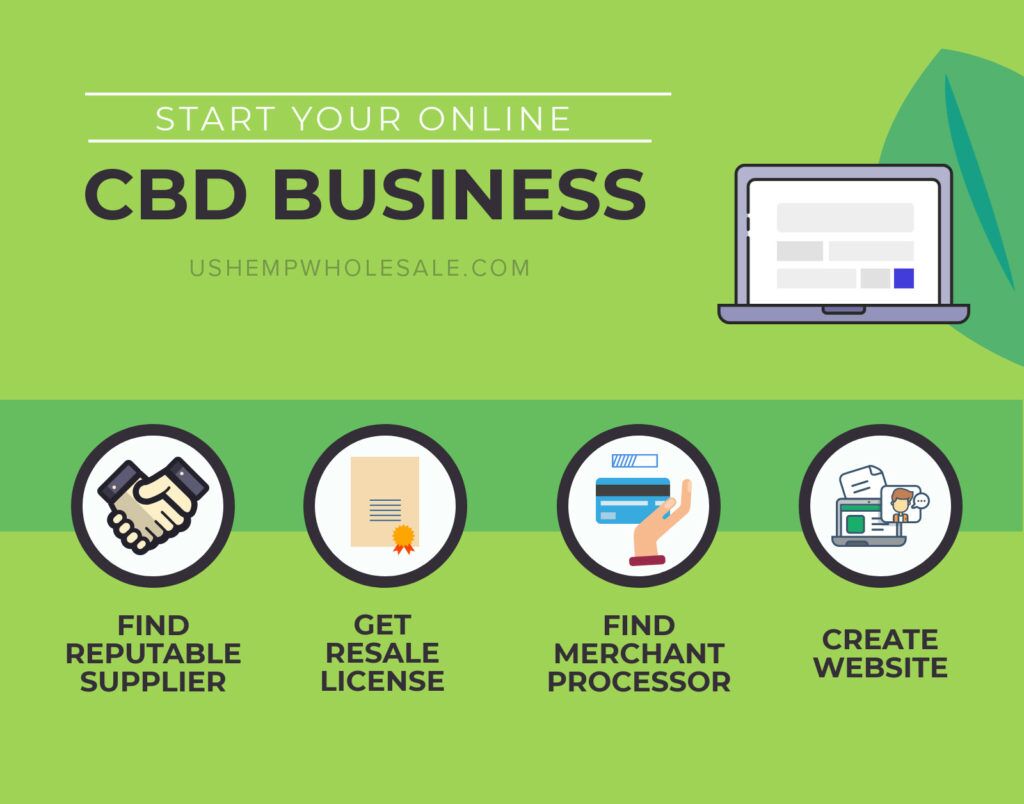 Register Your Business
To become an online CBD oil distributor, you must find a supplier and set up an eCommerce store. First and foremost, however, you will need to register your business. Having a registered business name is professional and limits your personal and tax liabilities. This step also provides you with the opportunity to hire employees, apply for loans, and find investors. Information for state or federal business registration can be found online.
Apply for a resale license
Many wholesalers will require a resale license to proceed with a partnership. To apply for distribution with US Hemp Wholesale, we require a resale license or EIN.
Choose a website building platform
To begin the process of creating a website, you must first choose which website platform you would like to build your website on. Different platforms have different functionalities and the one you choose will be dependent on your business' needs. Keep note: there are website platforms that do not allow the sale of CBD. You will need to do your research to find which platform will suit your business and allow the sale of CBD.
Currently, our wholesale partners are having success with several website platforms such as Shopify and WordPress. Our recommendation is WordPress with WooCommerce for e-commerce, but we suggest talking with your web professional about what will work best for you and your business needs.
Find a merchant processor
Securing a merchant processor allows you to charge your customers for products. Though selling CBD oil is legal in all fifty states, banks and merchant processors consider our business "high-risk" and getting approved for a merchant account will likely be difficult. We expect this to continue until the banking and financial industries are able to adjust and catch up to the new laws around CBD products. Paypal, Stripe, Square, and all the other "big processors" are not allowing CBD at this time.
We hear Square is coming around, though their minimum monthly requirement for processing may be north of $10,000. At this time, this is the most difficult part for most potential CBD businesses.
Recap: Getting Started with a CBD Online Store
To sell CBD online, you first must register your business. Then, if you are looking to distribute CBD oil, you will need to find a wholesale business and obtain the information required by the business, such as a reseller's license. Once you are approved by the wholesale business, you will need to find a compliant website building platform and merchant processor. Once these tasks are completed, you can move forward with setting up an eCommerce store.
A Note About Third-Party Sellers
Rather than set up your own website, you may be considering selling CBD oil through a third-party seller, such as Amazon or eBay. Third-party sellers each have their own policies for selling CBD. For example, "Rich Hemp Oil containing concentrated cannabidiol (CBD)" is listed in Amazon's examples of prohibited listings under Drugs & Drug Paraphernalia. It's best to check with each party's policies to confirm whether you can sell CBD on their platform. Currently, it is to our knowledge that Amazon, eBay, and Etsy prohibit the sale of CBD oil. If you search on Amazon, eBay, Etsy, etc., you may see CBD oil listed. We encourage you to keep in mind that these products are prohibited and are quickly taken down.
If you find a third-party to sell CBD oil products on, you will need to confirm with your wholesale partner that they allow their product to be sold on third-party platforms.
Setting Up an eCommerce Store
While we are not in the business of web development, there are a few eCommerce best practices that we find it important to mention.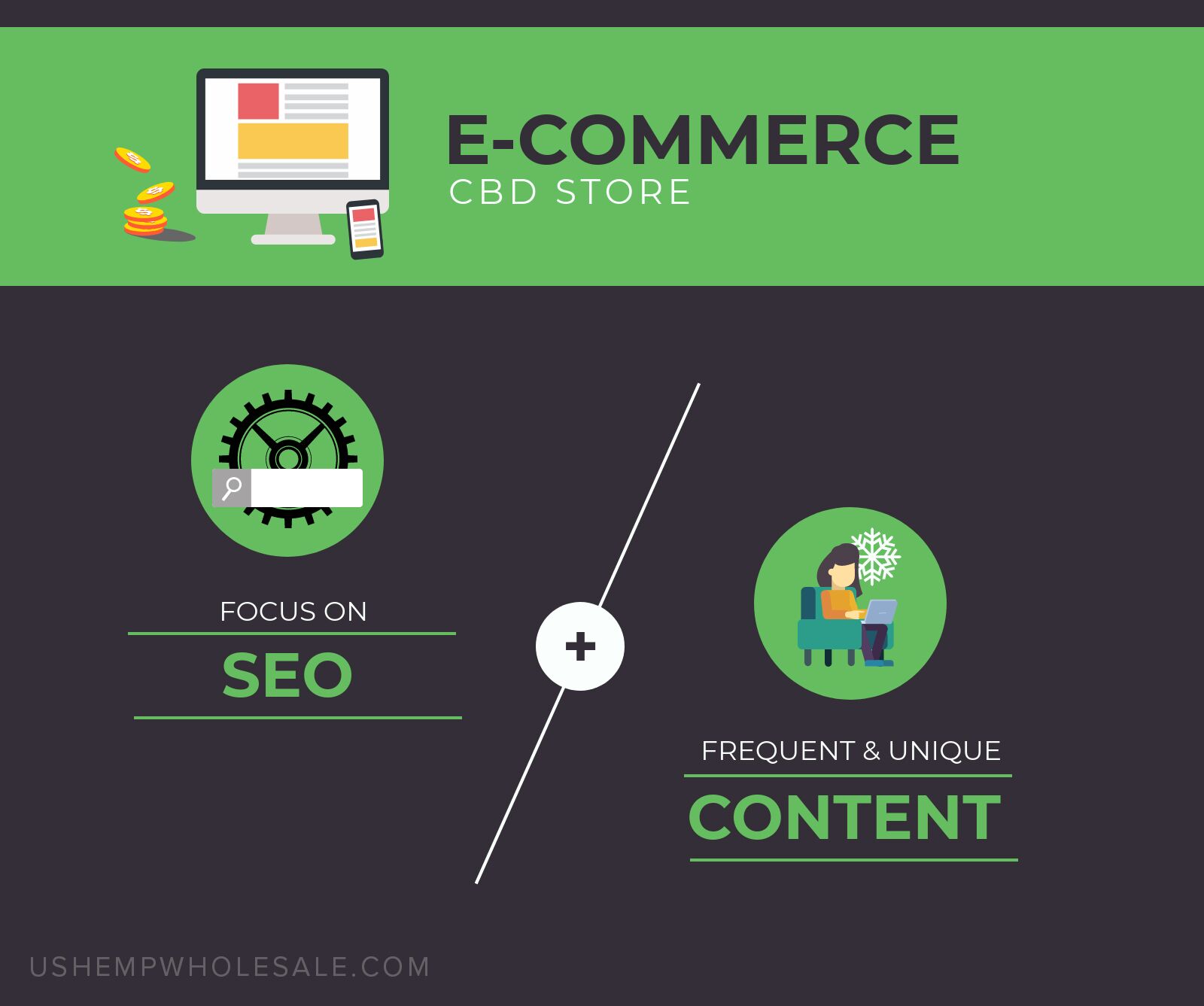 Focus on Search Engine Optimization
Search engine optimization (SEO) will serve as your main method of garnering online traffic. The reason being most companies such as Facebook, Google, Instagram, and more do not allow for CBD advertising. For this reason, it will be in your interest to learn the best practices of search engine optimization. This will affect your content from the beginning, so learning SEO at the beginning stages of development will be of benefit.
Writing Frequent and Original Content
It is important to write original content and to do so frequently. Useful content that makes use of a strong SEO strategy will increase your visibility on Google and attract customers. Many of our wholesale partners have found success by frequently blogging educational information that customers are searching for. Our wholesale partners have access to our library of pictures and brochures and can reference the content on our product listings. We strongly advise you to not copy another website's content, including our own. Google will recognize this and penalize your website for it.
Making Claims
When writing content, keep in mind that a business selling CBD oil does not have the authority to make claims that prevent, treat, diagnose, or cure a disease. Do not mention specific health conditions by name. Doing so will put your business at risk by the way of the FDA.
In November 2017, the FDA issued a warning letter to four CBD companies that claimed CBD could prevent or cure cancer. In a press release, a representative of the organization stated, "Selling these unapproved products with unsubstantiated therapeutic claims is not only a violation of the Federal Food, Drug and Cosmetic Act, but also can put patients at risk as these products have not been proven to be safe or effective. The deceptive marketing of unproven treatments may keep some patients from accessing appropriate, recognized therapies to treat serious and even fatal diseases."
Be cautious with the language on your website. The best practice is to avoid making any medical claims and stray from using terminology that would be used for medication.
Marketing your Online CBD Business
Once you have your merchant processor set up and your content loaded, you're ready to begin selling. The next continual steps are to market your online store. Marketing for CBD products can be challenging because common methods of eCommerce marketing do not allow for the promotion of CBD products.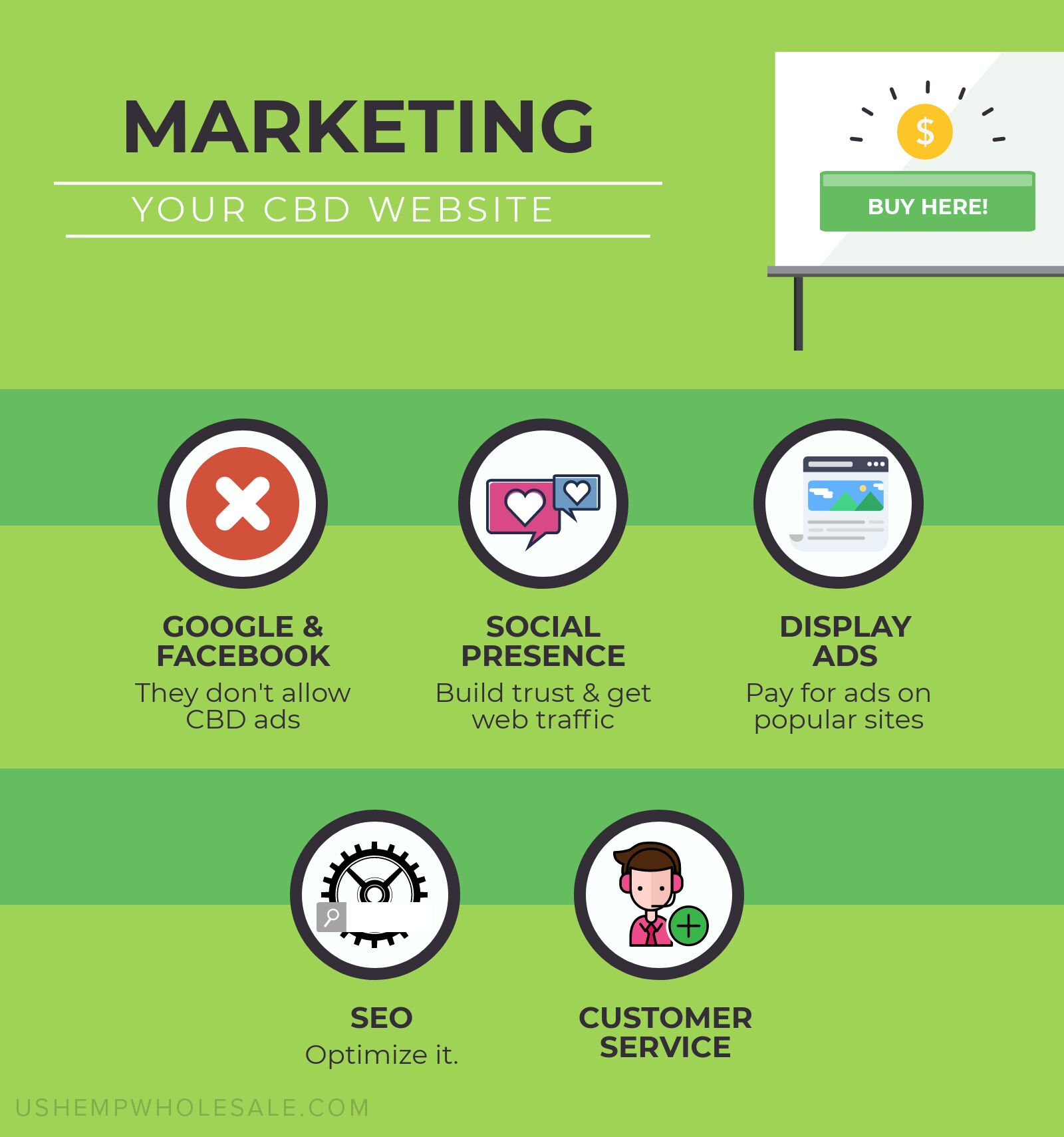 Google Advertising
Currently, our distributors have found that Google does not allow paid advertising for CBD products. Even when derived from industrial hemp, CBD oil is considered a product of marijuana, which is listed under Google's list of dangerous products or services.
Social Media
In addition to content writing, social media is another method for garnering organic traffic. While you cannot use paid social advertising, you can build a strong social following to market to.
Display Ads
A paid form of advertising that is viable in the CBD market is display ads. Displaying ads on high-traffic sites can build your website traffic and generate new customers. Keep in mind only certain sites will allow CBD ads, so you'll need to research this as well.
Search Engine Optimization
Again, since you cannot take advantage of many forms of paid advertising, your main marketing strategy may revolve around search engine optimization. This will have an impact on the quality and quantity of your website's organic traffic. This is so important that we've mentioned it twice. Keep in mind, SEO can be challenging because it takes time to see the results. Work done today may not be recognized for six months or more. Keep at it!
Customer Service
In this industry, in particular, you are likely to encounter many questions. It is best to be well-prepared by educating yourself on all things surrounding CBD. While, again, you cannot make claims to prevent or diagnose disease, you can lead your customer to the right place to find the information they need.
Conclusion: How to Sell CBD Online
Selling CBD online can be challenging but it is highly rewarding. Equipped with the right knowledge, you can start and market your online store with success. The future of the CBD market is exciting and now is an ideal time to get started in the industry.
Do you have more questions about becoming an online CBD oil distributor, or ready to get started? We're here to help!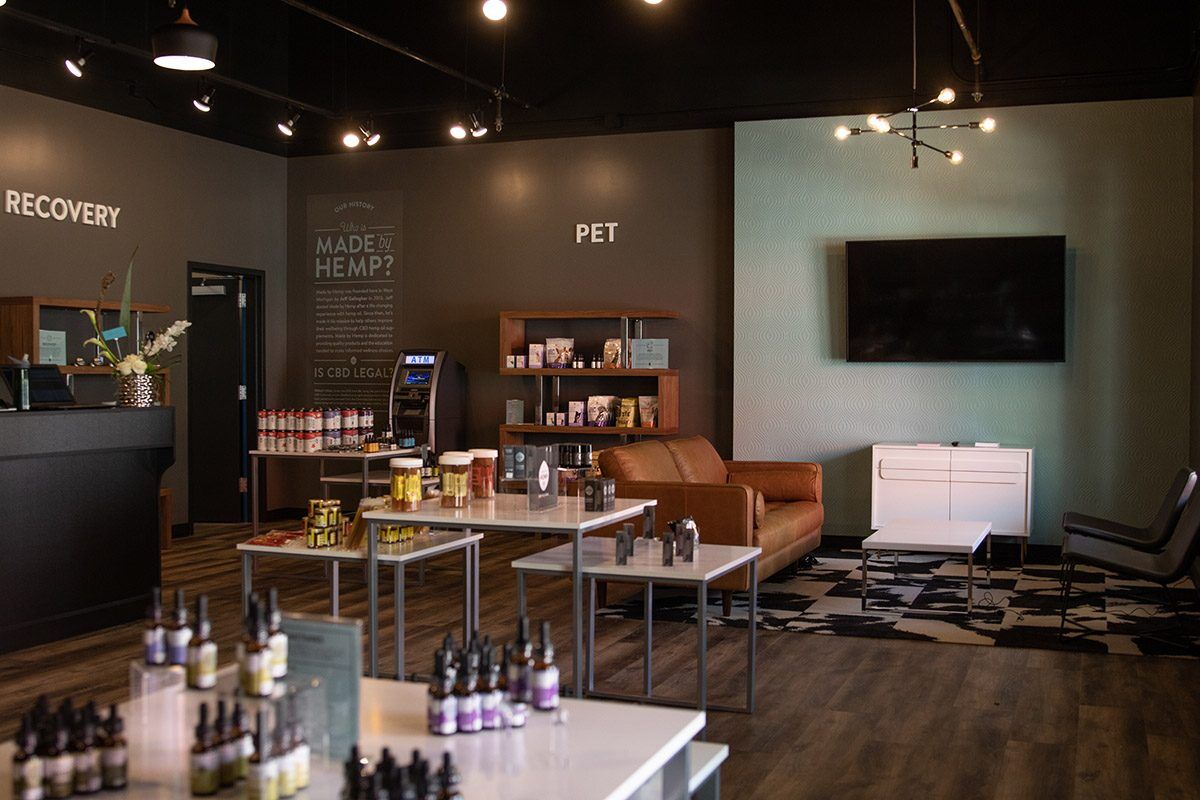 How to Sell CBD in a Retail Store
In a world of online retail, brick and mortar stores can still flourish. A retail location provides many benefits, especially in the CBD industry. However, there are obstacles to selling CBD oil that you should be aware of before getting started. We will discuss the unique challenges of the CBD industry while offering suggestions for setting up and marketing your store.
If you're considering selling CBD in a retail space, you are likely in one of two situations. Either you have a retail store and want to add CBD to your inventory, or you'd like to open a store to include CBD products. We will go through both scenarios. First, however, we would like to discuss common questions we receive about selling hemp oil in a retail space.
Selling Hemp Oil in a Retail Space: Common Questions
Is it legal to sell hemp oil in my state?
Hemp oil is legal to sell and purchase in the United States if it contains less than 0.3% THC. For this reason, it is important to confirm the levels of THC in the products you carry. This can be done so through the manufacturer's certificate of analysis (COA) or third-party testing. At US Hemp Wholesale, our COAs are available to all our partners.
Do I need a special license to sell hemp oil?
No, you do not need a license to sell hemp oil. Any retailer can add hemp oil to their stock. However, you will need an EIN or some type of proof of your business.
Is there a possibility my products will be seized?
If you are attentive to the news in the CBD industry, you may have heard of CBD products being seized in states such as Florida and Tennesse. These raids were fueled by miscommunication, not the law. Unfortunately, this can occur in a high-risk industry such as hemp. However, the possibility of your products getting seized is low. In the cases cited, the raids were wrongfully performed, and, in many cases, the products were returned.
Now that you're ready to start selling CBD in a retail space, we will discuss the details of opening a new retail space and adding CBD to your current retail location.
Getting Started with a CBD Retail Store
While we are not in the business of retail consulting, there are a few key steps to consider when opening a new retail space. If you already have a retail location and you are looking to add CBD to your store, skip to Selling CBD in a Current Retail Location.
If you need help setting up a new retail store, a Google search for your local municipality should provide the information you need. Talking with a legal professional would help as well. At the minimum, you will need to register your business, apply for an EIN, research the local, state, and federal laws (this is where we recommend a local legal professional), find a location and set up a compliant merchant processor so you can receive payments. As with online selling, we have seen retail store merchant processors be just as difficult if not more so.
Opening a new retail location is exciting but requires time and attention to get started. We suggest you perform ample research before pursuing this channel of sales.
Moving forward, the information you need will coincide with those who already have a retail location. Some of the following text may be repeat information; however, it is important to reiterate.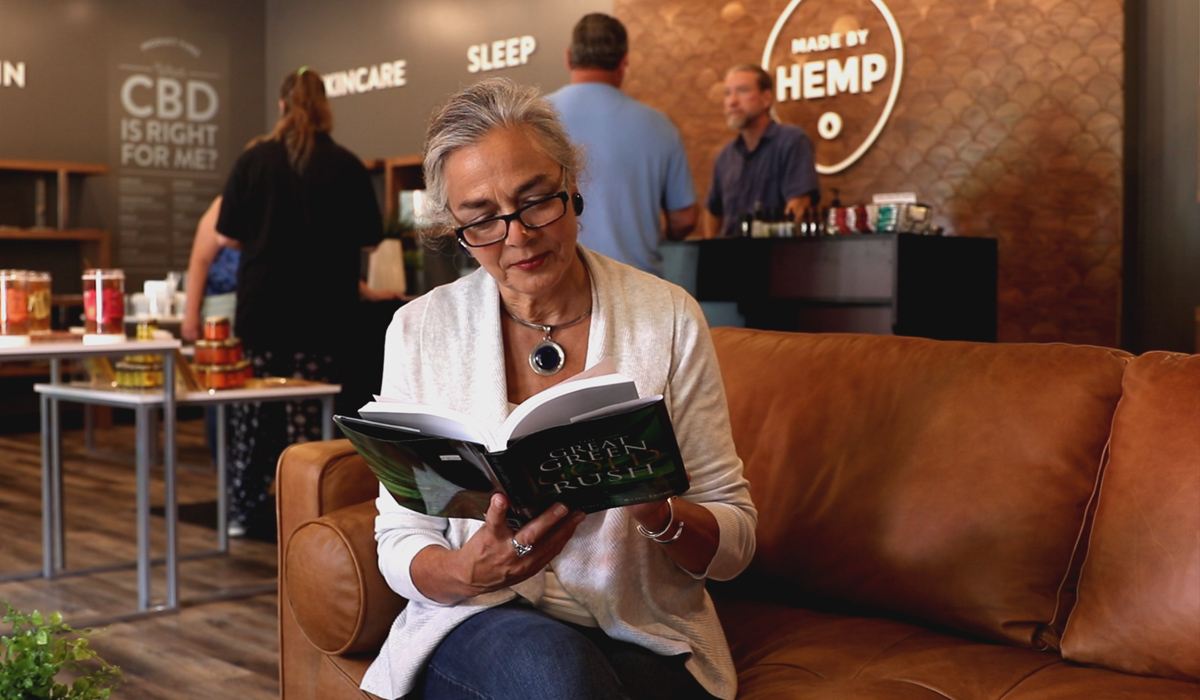 Selling CBD in a Retail Location
If you are considering adding CBD to your stock, there are a few items to keep in mind.
Research the laws
The CBD industry is in constant motion. We recommend researching federal, state, and local laws—including existing laws and those proposed for the future—before selling CBD products. You may need to consult a lawyer to confirm the legality of selling CBD in your area and answer any questions you may have.
Build your knowledge base
It is important to understand the product you are selling. Gather as much knowledge about CBD as possible to best serve your customer. Make sure the information you are relaying is accurate and from a reputable source.
Educate your staff
After building a knowledge base, educate your staff on CBD and hemp. Your team should be able to handle frequently asked questions and understand the product. A well-educated and trained staff will be to the benefit of your customers and your sales.
Both you and your team should understand that businesses selling CBD oil do not have the authority to make claims that prevent, treat, diagnose, or cure a disease. Doing so will put your business at risk by the way of the FDA. Be cautious with the language you use with customers. The best practice is to avoid making any medical claims and stray from using terminology that would be used for medication. This is really important! Take your time and get it right.
When working with US Hemp Wholesale, you can reach out to your sales representative with any questions on our products or the hemp industry. Our sales representative and websites will provide the necessary information to educate you and your staff.
Create informational signage
During peak hours, it is not always possible to converse with each customer. Informational signage will help to educate the customer and allow them to make an informed purchase. Signage will also increase the visibility of your product.
Educational pieces customers can take with them are beneficial for creating return customers. These documents are helpful for those that aren't ready to make a purchase the day of but would like to learn more about CBD.
Highlight your inventory
The retail partners we work with have reported an overwhelming response to CBD products and your store should cater to such. Consider putting your stock in a high traffic area to grab the attention of your customer.
Sell a variety of products
Carrying a variety of CBD products will help to expand your audience. Tinctures may appeal to some while a salve may be fitting for others. Carrying a range of products will capture a greater number of sales.
Curious as to which CBD products would sell well with your customers? Our representatives can help determine the products that will appeal to your target market! You can reach out to them here for help selecting the best product types.
Find a new merchant processor
It is important to call your current merchant processor and confirm that they allow the sale of CBD. If they do not, we highly suggest cashing out with your current processor and finding a merchant processor that allows the sale of CBD.
Marketing your Retail CBD Business
You've got a great product, now you need customers. You may already have a loyal customer base, or you may be starting at the beginning. Either way, these marketing tips will help grow local awareness of your CBD product.
Be Active on Social Media
Social platforms should play an important role in promoting your business. A strong social media marketing strategy will help to build your brand and create a loyal following. Posting product photos and special promotions will encourage both new visitors and returning customers.
While you cannot use paid social advertising for CBD products, you can use other products to target your audience. For example, Facebook offers location targeting to promote sales and new product to potential customers in your area. This option is available to stores that are not specifically hemp or CBD related.
Host In-Store Events
Events such as wellness classes and educational workshops are a major draw for customers. Use your knowledge base to educate a group on CBD or on natural wellness in general. You could partner with a yoga studio and offer a free class in your store or teach customers how to make a natural salve. There are many possibilities! Aim to hold at least one event a month.
Write Articles Related to the Industry
Get your business in front of readers by pitching a guest post to local publications. As an expert in the industry, you have specialized knowledge many publications are looking for. This will increase the visibility of your store and promote hemp education.
Set Up an Online store
You may consider developing an online store in conjunction with your retail store. An online store provides the opportunity to capture your audience outside of the retail location. Visitors who did not purchase in-store may be prompted to visit an online store to make a purchase. An online store also increases the visibility of your retail store, bringing in new customers that may not have discovered your store otherwise.
If you are considering starting an online store, make sure to visit the first part of this post: How to Sell CBD Online [link].
This is not a comprehensive list and there are plentiful ways to attract customers to visit your location. Get creative! There are unique opportunities to encourage foot traffic.
Conclusion: How to Sell CBD in a Retail Store
Retail stores hold unique appeal and are a viable way to sell CBD. With the proper educational tools and a strong knowledge base, you can find success and help others on their wellness journey.
Do you have more questions about selling CBD in a retail store, or ready to get started? We're here to help!